Performance and advantages
1.An integrated controller is set for the water inlet of the water tank to keep the water flowing and effectively solve the problems of dead water layer and retention layer;
2·Over-current parts are processed with high quality food SUS304 and above materials, which are environmentally friendly and hygienic;
3·Equipped with SW large module water tank, not easy to rust;
4·Uninterrupted water supply during water tank repair and maintenance;
5·The ultraviolet sterilizer has high sterilization efficiency, and the special design makes the ultraviolet sterilizer have a longer service life;
6·Multiple guarantee design to comprehensively improve water quality;
Multiple pumps operate at the same frequency and load balance with an energy saving rate of more than 15%.
Scope of application
1.Domestic water for residents: such as high-rise buildings, residential quarters, villas, etc;
2.Public places: such as hospitals, schools, gymnasiums, golf courses, airports, etc;
3.Commercial buildings: such as hotels, office buildings, department stores, large saunas, etc;
4.Irrigation: such as parks, amusement parks, orchards, farms, etc;
5·Manufacturing: such as manufacturing enterprises, washing devices, food processing plants, etc.
Technical parameters
1.Flow: 0-300m3/h;
2.Pressure : 0-2.5mpa;
3.Pressure regulation accuracy: ≤ 0.01Mpa;
4.Ambient temperature: 0 ℃ ~ 40 ℃. If it exceeds this range, corresponding measures must be taken;
5.Power supply: three-phase five line ,380Vx(±5%) 50Hz±2Hz。
Equipment advantages
☆water quality improvement function: comprehensively improve the water quality through the design and use of inlet flow controller, grid designed SW large module water tank, ultraviolet sterilizer, water tank automatic cleaning device, etc
☆Intake integrated control device: the water tank can be set at high or low liquid level and the water storage residence time can be controlled, which effectively solves the problems of dead water layer, retaining layer and water quality that are difficult to guarantee for a long time in the water tank;
☆ISW large module water tank: It has three advantages: seamless, no stretching ribs, no welding, to prevent the problem of rust in the water tank, and to clean the water tank more conveniently.
☆ application of ultraviolet sterilizer: more efficient and faster sterilization effect without disinfection by-products; Unique operation control to prolong the service life of lamp tube;
☆Uninterrupted water supply: water tank is designed in different compartments and can be supplied uninterrupted in case of tank maintenance;
☆ multiple control and protection functions of outlet water pressure: pressure sensing and control devices are set for outlet water to play multiple control and protection functions;
☆Pump house flooding alarm system: our patented pump house flooding alarm system monitors pump house leakage in real time to prevent flooding pump house accidents.
☆Multi-function water quality online monitoring system: Our self-designed multi-function water quality online monitoring system monitors the residual chlorine, turbidity, pH and other water quality indicators in and out of the water to ensure safe water use;
Leading Control Systems
☆Digital full frequency conversion design: when multiple pumps are running, the operating frequency of each pump is the same and the load is balanced. Through actual measurement, the energy saving rate is more than 15% than that of traditional equipment.
☆Water supply function in different time periods: different outlet pressure can be set in different time periods to improve water comfort and reduce energy consumption;
☆Full data detection: Full data detection system, such as system voltage, current, total equipment consumption, pump operating frequency, current and power consumption, can transfer data to monitoring platform for monitoring and analysis;
☆ comprehensive protection: power supply phase failure protection, phase sequence protection, surge lightning protection, equipment inlet low-voltage protection, equipment outlet overpressure and loss of voltage protection, etc;
☆Full universal design: All standard electrical components in the industry can be used in our control system, and later maintenance and replacement are easy;
☆Smart Fault Diagnosis: Real-time alarm when a fault occurs, and display the cause of the failure on the touch screen to guide after-sales maintenance;
☆ pipe burst or leakage protection: the system intelligently diagnoses pipe burst or leakage accidents, controls equipment shutdown and sends audible and visual alarm information;
☆ temperature and humidity monitoring system: a temperature and humidity monitoring system is set in the control cabinet to jointly control the operation of intelligent cooling fan and automatic demystification equipment, so as to ensure the good operation of the control system;
☆ reserved data interface: residual chlorine, turbidity, flow detection interface, RS485 or Ethernet remote transmission interface can be reserved;
☆ high protection grade of the cabinet: the protection grade of the control cabinet reaches IP54, with good dust-proof and splash proof effects;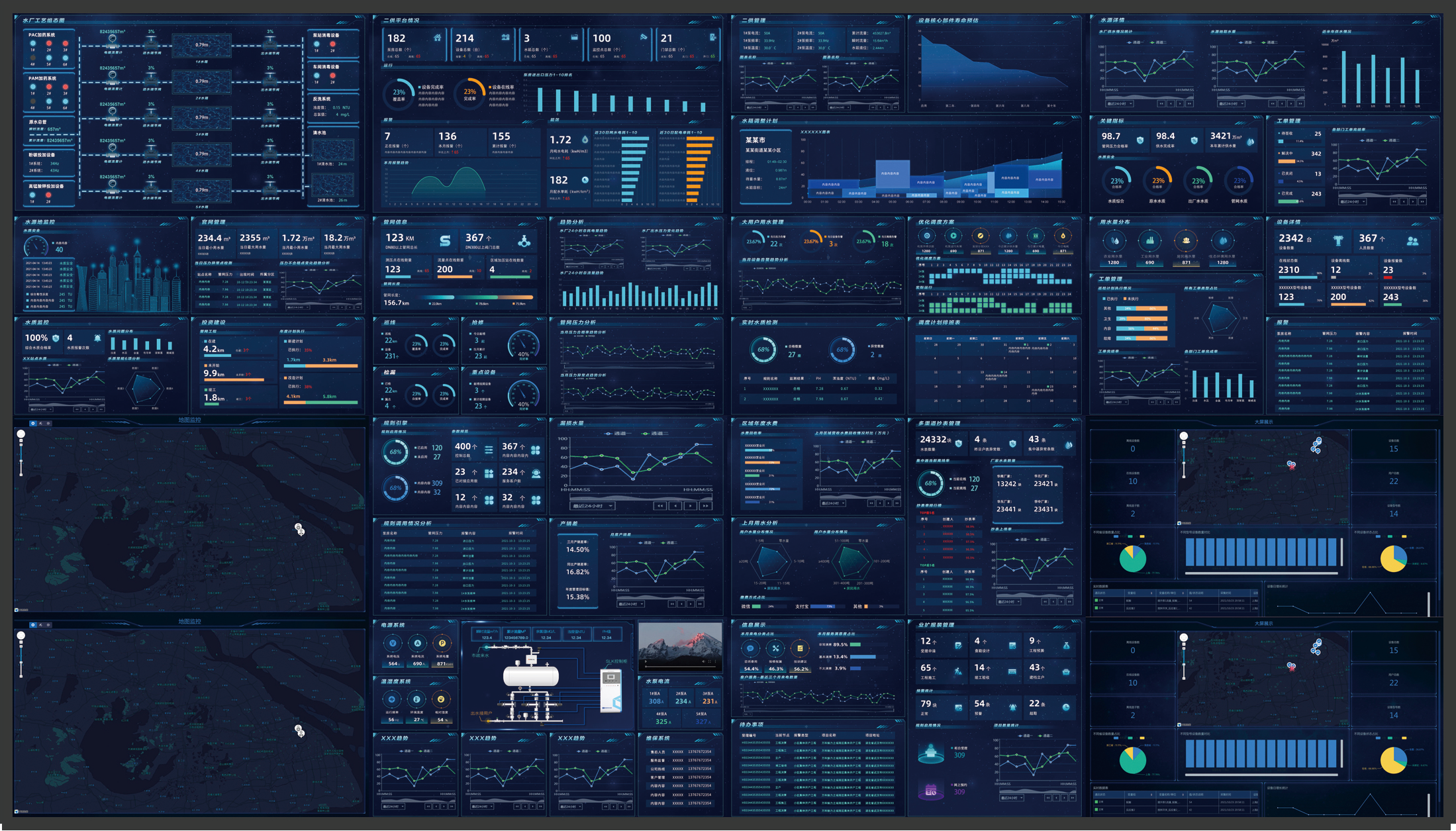 The equipment can be designed and used in combination with the plates to make the above ground intelligent life integrated pumping station and the buried intelligent life integrated pumping station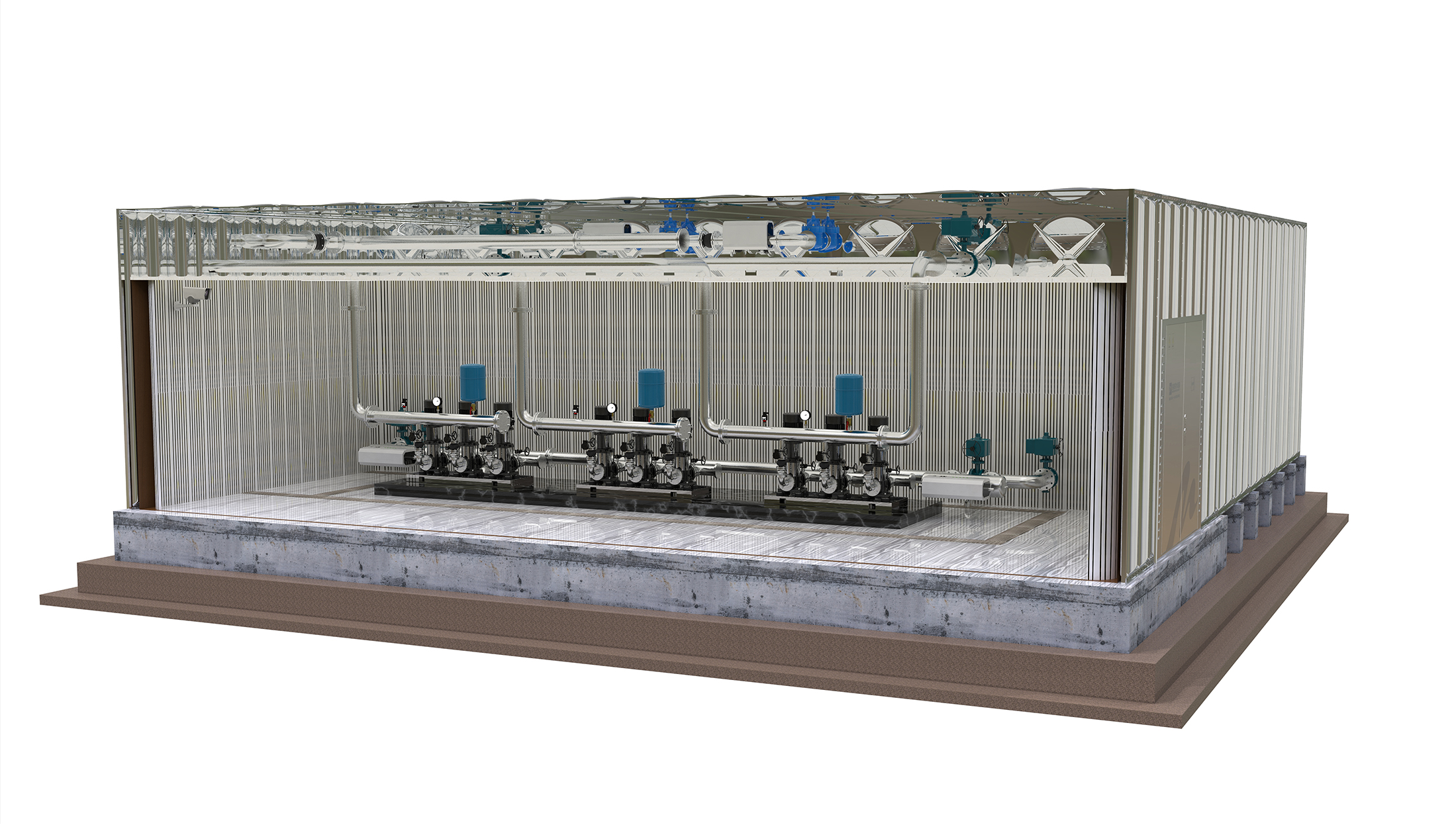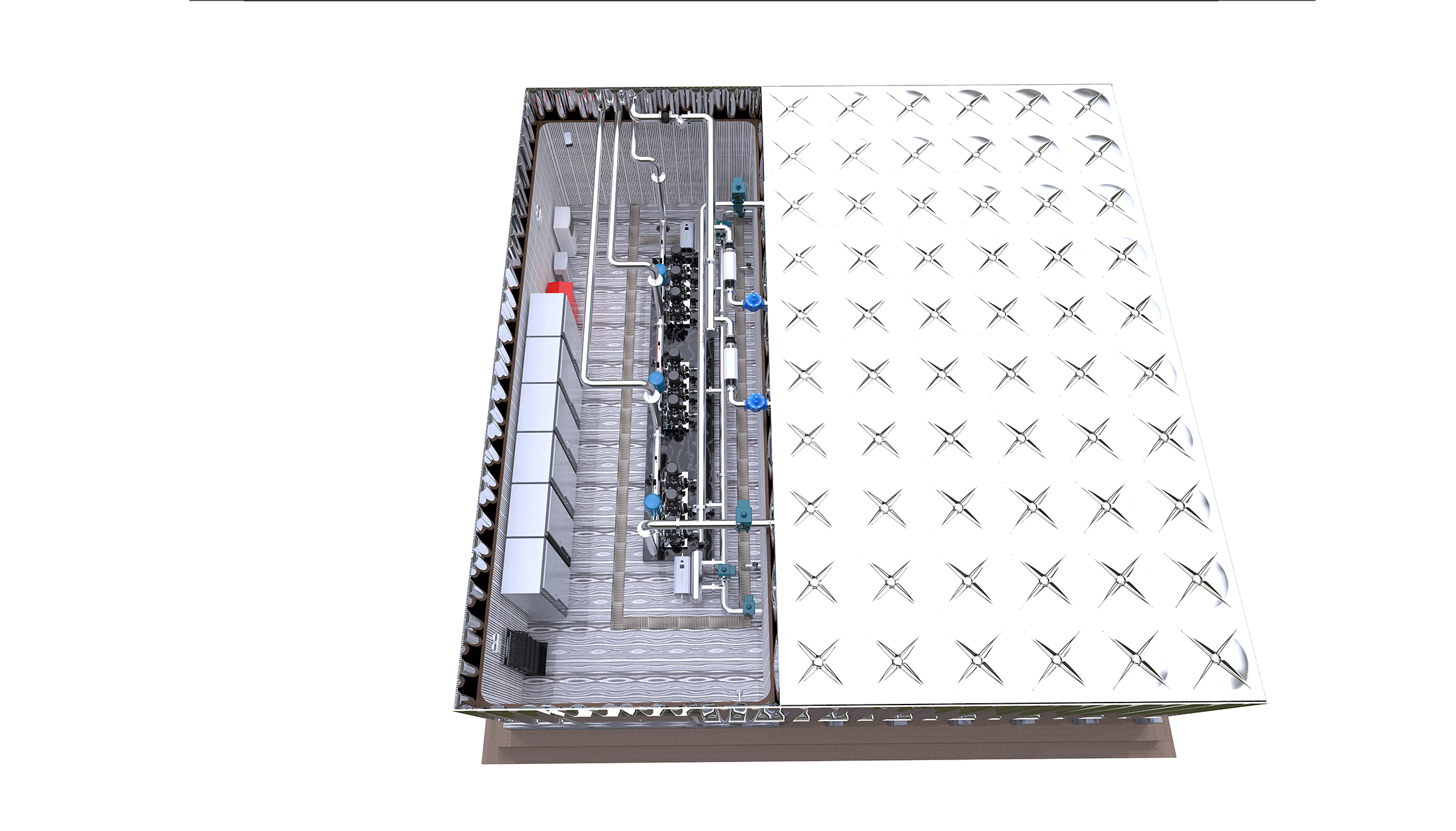 Performance and advantages
Integration: Fuse the configuration functions and requirements of fire pool, pump house, water supply equipment, control system and other facilities into one;
Standardization: the whole process of design, manufacturing, installation and use shall be implemented in accordance with the current national standards;
Internalization: the system adopts Ethernet and wireless 3g/4g transmission to realize the functions of monitoring, monitoring, monitoring and intercom through smart phones, computers and monitoring PTZ (fire control center);
Energy conservation and environmental protection: save steel, wood, concrete, labor, construction period, water, electricity, etc.
Scope of application
Application of new construction, rebuilding and expansion and design, application, construction, installation, commissioning, acceptance and maintenance management of fire water supply pump station integrated with assembled box pump in fire water supply system of industrial buildings.