Product Description & Parameters
MS, MC is a high-efficiency and energy-saving vertical multi-stage centrifugal pump. The centrifugal force generated by the impeller of the rotary pump drives the rotation of the fluid to complete the liquid transportation. It is mainly composed of a main shaft, an impeller, a guide vane, a pump casing and a mechanical seal. The pump body and the motor are connected.
MS, MC series can be used alone as booster pump, and can also be used with booster equipment to be used in booster systems in construction and industry. In the pipeline system, this design makes the structure of the pump and the pipeline more compact.
MS, MC series vertical multistage centrifugal pumps can be installed vertically or horizontally on the pipeline according to the different installation space on site. In the case of horizontal installation, the pump needs to add a fixed module to ensure the stability of the pump during operation.
How to connect the pump
Flange connection
Threaded connection
Clamp connection
Oval flange connection
Pump material
cast iron
Stainless steel (AISI304, AISI316)
Duplex Stainless Steel (2205)
motor
Squirrel cage type fully enclosed air-cooled IEC motor, suitable for continuous duty operation
Protection level: IP55
Insulation class: F
Standard voltage: 3x220-240/380-415V
1x220-240V
Single-phase motors are available from 0.37kW-2.2kW.
Pump liquid temperature
Normal temperature pump: liquid temperature -15 ℃ to +70 ℃
Hot water type pump: liquid temperature -15 ℃ to +105 ℃
performance curve
All curves are based on motor measurements at a constant speed of 2900rpm or 2950rpm.
The curve tolerance conforms to ISO9906.
The test adopts water without air at 20℃, and the kinematic viscosity is 1mm²/s.
The use of the pump refers to the performance range of the thick line to prevent overheating due to too small flow or overloading of the motor due to excessive flow.
Pump operating conditions
Thin, clean, non-flammable and explosive liquids that do not contain particles or fibers
(For details, please refer to the liquid delivery instructions on the last page of the sample)
Ambient temperature: no more than +40 ℃
Altitude: no more than 1000m
Altitude and ambient temperature
When the pump runs when the ambient temperature is higher than 40℃ or the altitude is higher than 1000m, the output power P2 of the motor will decrease.
big.
---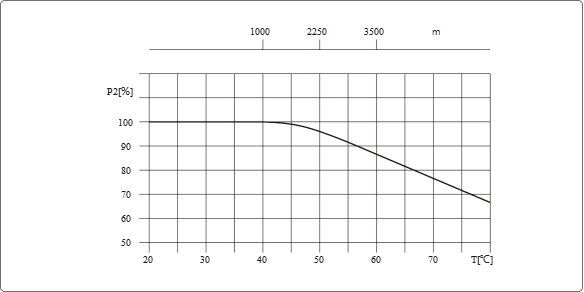 Performance range